All Xbox Game Pass games confirmed at E3 2021 so far! | Digit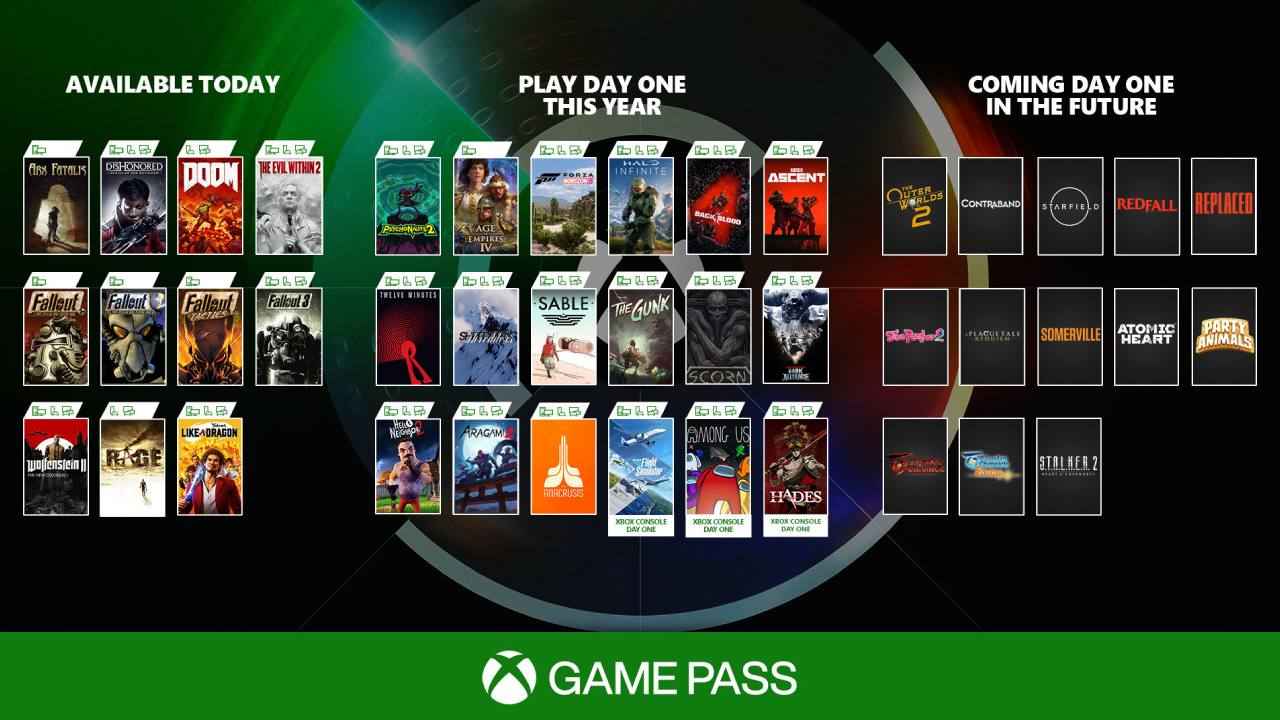 During E3 Xbox and Bethesda E3 took to reveal a bunch of new games coming to Game Pass, with over 20+ games available from just #DayOne; with other games following behind, launching either sooner or later. 
Titles like A Plague Tale: Requiem,  Redfall (A co-op first-person shooting game, Redfall would allow players to play individually or team up with a maximum of three friends to shoot vampires that have taken over the town), and Contraband are some of the titles expected to arrive as late as 2022. Other than these, there would be some more titles launched which aren't included in the list below. These are: S.T.A.L.K.E.R. 2, Starfield, Back 4 Blood, Far Cry 6, Grounded, Diablo II: Resurrected, Shredders, and many more.
Confirmed List of games for Xbox Game Pass:
 As for this year, the following titles would be available (listed along with their dates according to sources):
Yakuza: Like A Dragon (June 13 2021 *Should be already available by the time of this post) 

Among Us (June 15)

Dungeons & Dragons: Dark Alliance (June 22 2021)

Microsoft Flight Simulator [Xbox Series X|S]  (July 27 2021)

DOOM Eternal (July 29 2021)

The Ascent  (July 29 2021)

Hades (August 13 2021)

12 Minutes (August 19 2021)

Psychonauts 2 (August 25 2021)

Aragami 2 (September 17 2021)

Sable (September 23 2021)

Back 4 Blood (October 12 2021)

Battlefield 2042 (October 22)

Age of Empire IV (October 28 2021)

Forza Horizon 5 (November 9 2021)

The Anacrusis (Fall 2021)

Shredders (December 2021)

Hello Neighbor 2 (To be announced 2021)

The Gunk (To be announced 2021)

Halo Infinite (Holiday 2021)