Samsung Odyssey Neo G9 could be the industry's first curved-display Mini-LED gaming monitor | Digit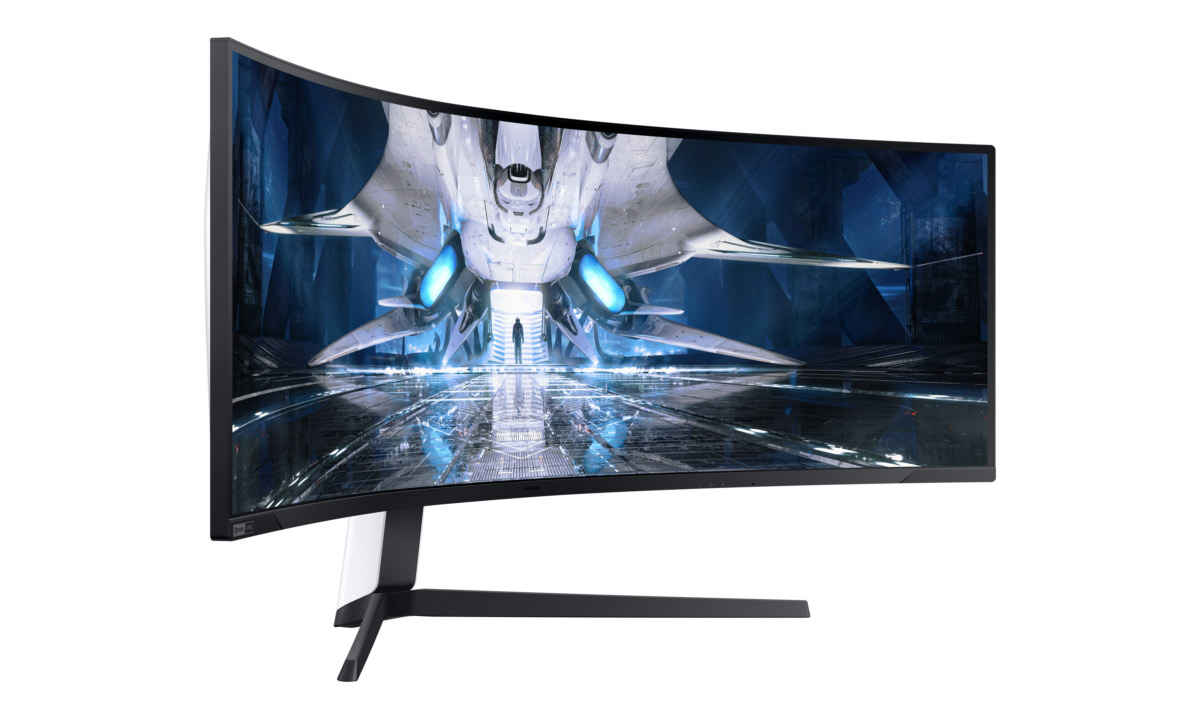 2021 has been the year of mini LED display technology from the very start and now Samsung is gearing up to launch the industry's first Mini LED curved gaming monitor, Odyssey Neo G9, that will succeed the Odyssey G9. Similar to Samsung's Neo QLED TVs, this premium gaming monitor will incorporate Samsung's Quantum Matrix technology with support for 12-bit gradation for better contrast. 
Odyssey Neo G9 Specs and Features
The gaming monitor has a 49-inch screen with a 32:9 aspect ratio and 5,120×1,440 pixel resolution. The monitor supports a 240Hz refresh rate and has a 1ms response time. As is expected of any premium gaming monitor in 2021, the Neo G9 supports VRR via HDMI 2.1 port and is compatible with NVIDIA G-SYNC and AMD FreeSync Premium Pro. It also provides Active Sync on Display Port 1.4.  Other gaming features include screen size optimizer, black equalizer, low input lag mode, and refresh rate optimizer.
Odyssey Neo G9 is based on the same backlight technology as Samsung's latest Neo QLED TVs. The backlight comprises an array of mini LEDs and employs a Quantum Dot Enhancement Film (QDEF) to enhance the quality of light which then passes through the LCD substrate. The use of Mini LEDs helps with more dimming zones (2048 to be precise) and thus better contrast and better HDR performance. 
Samsung rates Odyssey Neo G9 for Quantum HDR 2000, where 2000 denotes the peak brightness in nits. 
Also Check: Amazon Prime Day Sale 2021 – Best deals on TVs
The monitor has a glossy white exterior and a rear 'infinity-core' lighting system that can be personalized with multiple colours and lighting effects. The stand has tilt and swivel and users also have the option to wall mount. Connectivity ports include two HDMI 2.1 ports, Display Port 1.4, headphone jack, and two USB ports. 
"Samsung addressed the demands and expectations of even the most demanding gamers with the launch of the groundbreaking Odyssey gaming monitor portfolio last year," said Hyesung Ha, Senior Vice President of Visual Display Business at Samsung Electronics. "With the introduction of the Odyssey Neo G9, equipped with Quantum Mini LED displays, we are excited to offer a state-of-the-art gaming experience to our customers and demonstrate our continuous leadership in the market."
Also Read: What is Apple EDR? How is it different from regular HDR?
Odyssey Neo G9 Price and Availability 
Samsung's Odyssey Neo G9 will be available in South Korea starting July 29 for a starting price of 2.4 million won ($2,085 or roughly Rs. 1,55,000). Globally, the Odyssey Neo G9 will be available by 9 August 2021.
Tags:
Odyssey Neo G9 gaming monitor
Odyssey Neo G9 price and availability
Odyssey Neo G9 technology